Well I have become addicted to something. Like crazy addicted. Like dumpster diving at 11PM addicted. It's bad. Well technically it's really good. But ya know, addictions are bad.
This is the face of a little girl who just said... "MOM-- are we
REALLY
at another one of these??"
(when talking about a dumpster!)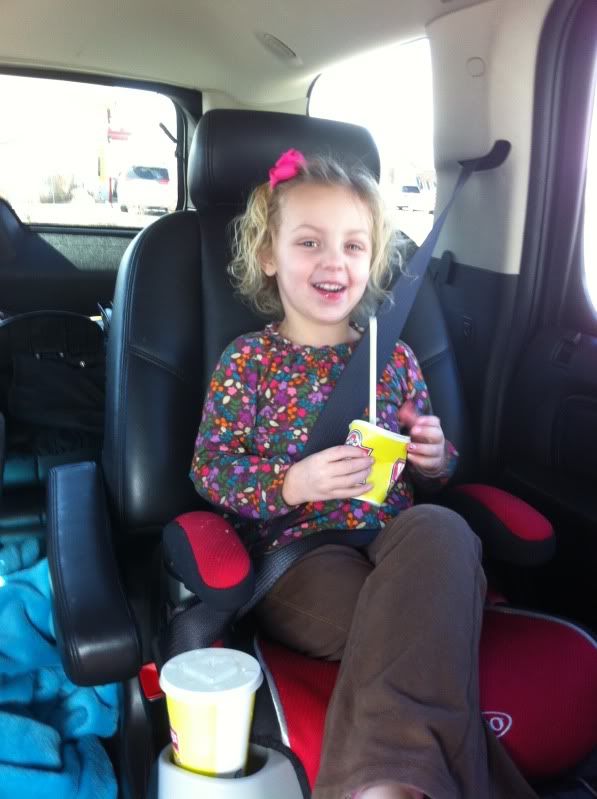 But what is awesome is:
spending $1.78 and getting 75 packs of my favorite gum! (50.73 before coupons)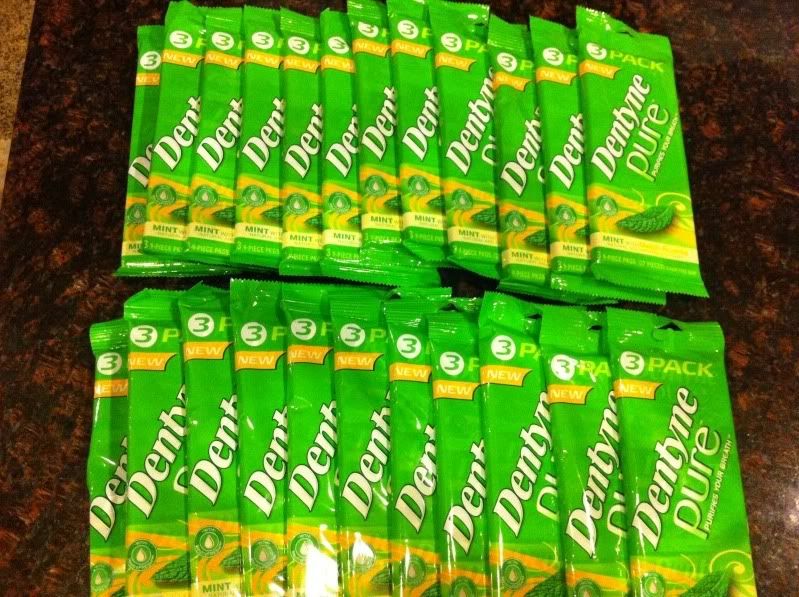 Spending $1.32 and getting 6 body washes.
Getting 12 (yes, only 11 in this picture-- I couldn't resist!) Mento's completely free.
Getting 36 airheads for $1.20-- Braun's church class is going to love him! :)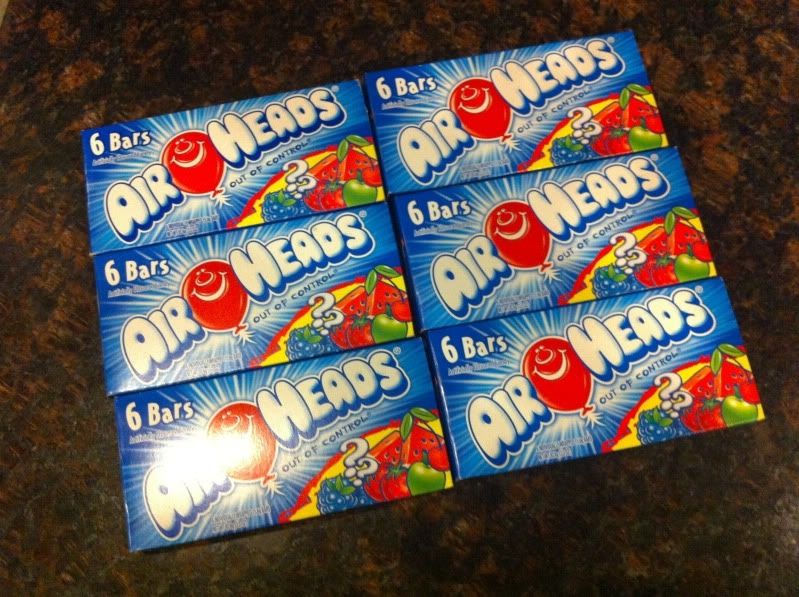 All of this was $3.43 from Target. (before coupons was 50.95)
and getting everything you see in this picture for $4.34!!!!!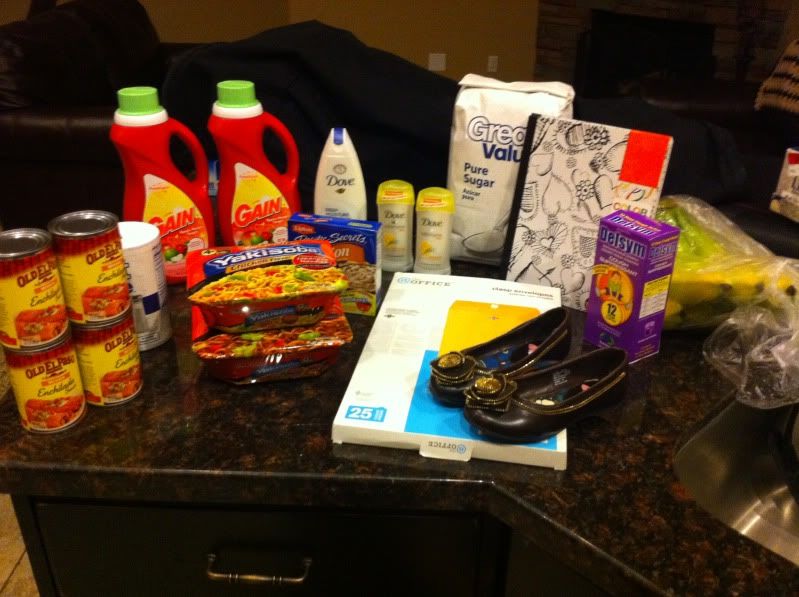 It has required a lot of time staying on top of coupon clipping, etc.. but I am amazed! (and this is like 1/100th of the deals I have gotten lately. This was just today's haul! :) Everything you saw in those pictures cost me $12.07.
This was the other days newspaper dive. After this one, I've told myself NO MORE dumpster diving for coupons. It took WAAAY too long to clip them all.
Did you also know that you can online coupon shop?? These are screen shots from my Amazon couponing tonight! I got $297.33 worth of diapers and wipes for only $40.86 shipped!!! I got huge 120-140 ct. boxes of Huggies for $6 (normally around $40 at Costco) and a few boxes of Pull-Ups and wipes completely free!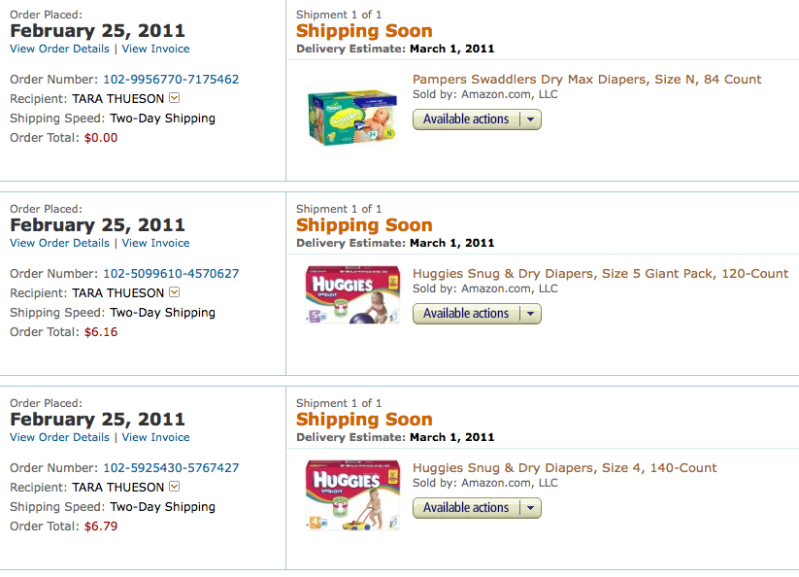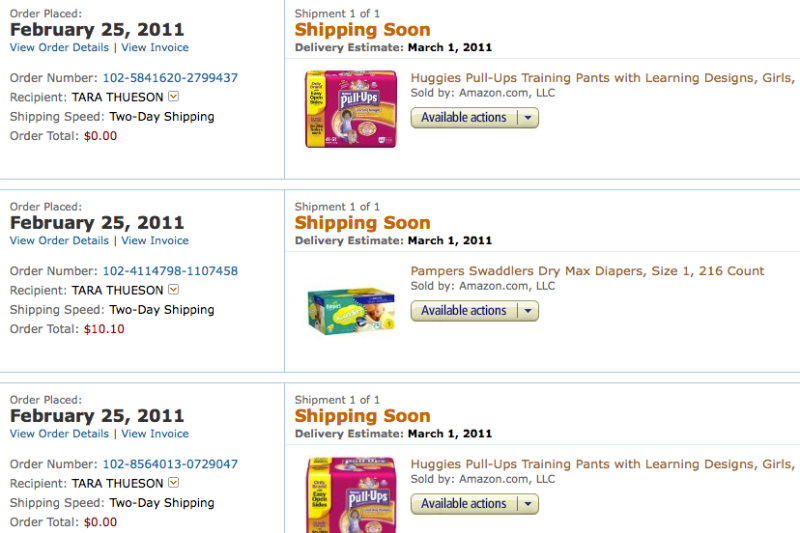 I really am amazed at how easy it is to get crazy good deals. I haven't paid more than 50% of my grocery total for about two months. One of my goals this year was to have an amazing food storage by the end of the year and like I said before, it has only been about 2 months but it is INSANE how much stuff you get for free and super cheap that you are used to paying
B00K0 BUCKS
for!
One of the biggest questions I get is "How did I learn??"
First off, I am no pro. I went to 2 classes, read a lot of couponing blogs and figured out the best way to get TARA to do it. It took a few weeks to get it down but
this book
was a HUGE help. Her website is also equally great!
The Krazy Coupon Lady
- beginner section
this will take you on a 10 day plan to becoming a Krazy Coupon Lady!
Another question I get is how do I hear about all these deals. That is the awesome thing about the internet. I do NOT have to go out and find my own deals. There are people who do that for their job! They go out and research all of the best deals that week and post them on either Facebook or their own Coupon Blogs. Some of my favorite coupon blogs are:
www.thekrazycouponlady.com
All deals
www.iheartthemart.com
All Wal-Mart deals
www.totallytarget.com
All Target deals
www.savvyshopperdeals.com
All deals
www.grocerysmarts.com
All deals-- great if you are a Smiths shopper!
The BEST thing though is if you are a Facebooker, add some of those sites to your Facebook feed and they literally post things 10 or so times a day. When something good pops up, get those coupons out of your binder and write it down on your grocery list. If you only shop at Wal-Mart, price match them from other stores with your coupons and you will get a sweet deal! :) Even just do a search for "coupon" in the search bar and find some coupon pages with a lot of fans. Add them!
Any questions, ask away! I would love to help you get started in this. It is so dumb not to!
Random coupon facts:
I get 5 Daily Herald newspapers every Sunday. It costs me $18.50 (I think??) a month. You will save that within your first 5 minutes of grocery shopping! :) It will take you about 6 weeks to get your coupon "stock-pile" so order it soon and clip every last coupon. For example, I clipped coupons for $10 off some $25 diabetic foot cream. After a bunch of store sales, my $10 coupon, etc.. Walgreens paid me $5 to buy this foot cream. Now I have a whole bunch of foot cream that I donated to a grandma and took to an elderly home. (AND it is all a tax write off-before coupons, I might add!)
Wal-Mart price matches other stores. You rarely even need to have the ad with you. Some Wal-Mart's even accept other stores coupons. Like the one in Sandy- they will totally take a Target coupon! Awesome.
Wal-Mart also accepts Walgreens Register Rewards.
You can "stack" coupons on single products. For example, in the Dentyne gum above, it was on sale from Target from $1.99 down to $1.79. There was a Target coupon on their website for $.75 off 1 and a manufacturer coupon from the Sunday paper for $1 off 1. So each pack of gum cost me $.04 for a 3 pack of gum.
If there is an awesome coupon that you want a lot of, just buy them online! Try eBay and other coupon clipping sites and you can get them for cheap. That is how I got so many Dentyne coupons.
Always take your coupon binder with you into shop. BUT be organized with a list and your coupons set aside before you go. There is NOTHING I hate more than being behind a SLOOOOOW coupon shopper. Now sometimes your cashiers are idiots and that doesn't help the process, but don't you be slow! Be ORGANIZED! Back to why you should take a coupon binder with you... I was in Smiths a few weeks ago and I walked through the deodorant aisle. They had an unadvertised sale on Dove deodorant. It was $2.00 each. I remembered that I had a few $2 off 1 coupon and whipped them out. I got 6 deodorants completely FREE!! That will happen a LOT. Especially in the Target clearance sections!
I organize my binder by putting my coupons all in baseball card holders. It is an awesome way to do it. They are 30 for $4 at Target near the sports card section. I bought a binder that zips at Staples for $19.99. It also has a big strap on it which makes it nice to carry around like a purse. You NEED to get at least a 3" wide ring binder. That is what I got and it is already full to the max.
Walgreens is usually crazy EXPENSIVE to shop at. Want to see how to get amazing deals there?
Watch this Video
HERE.
Another coupon stigma is that you are buying a lot of products that you don't need or won't ever use... I have been VERY strict with myself on this couponing gig. You will be shocked at how many things are free or a few pennies. At first, you will want to buy it all. But will you really use that spicy mustard that you get for free at Target?? No, I won't. So therefore, I don't buy it.
Well, I think that is all of the information I have for you right now. If you have ANY questions at all, I would love to help you!