I hope you all had a Merry Christmas! I want to get caught up on here and so hopefully I will be posting a lot in these next few days. We had such a great Christmas this year. Christmas is so much more fun with kids. Christmas Eve day we went to lunch with my family at Texas Roadhouse. We enjoyed about a million rolls, cheese fries, awesome blossoms, etc.. it was divine. I have ditched the gluten free living lately. Seriously though.. I need to get back on the ball because I feel like I have 100 year old joints. Ugh! This is the only picture I got at lunch that day.. I sure wish I would have taken a picture of Emery though. She sat on Santa's lap this year and told him that she wanted "Red Lipstick and Mascara" and the red lipstick part, she was sporting on about half of her face!!


That night, we wrote letters to Santa Clause. Emery was really concerned because she had forgotten to tell her that she wanted the princess barbie set from Target! So we had to be sure to leave that on his note. We left out Oreo's and Milk along with some carrots for Rudolph!
We all opened up some Christmas jammies and went to bed! P.S.
Victorias Secret Satin mom pajamas
are AWESOME! Soooo comfy and worth every penny.
Christmas morning was AWESOME!! I swear, I am so much more excited about Christmas than my kids are! I was tossing and turning all morning while my kids slept peacefully in their beds! Finally at 10:30 I went and woke them up. Anisten walks around in these pj's and calls herself "Lella" as in "Cinderella" all morning long. Cutie.
The first thing they ran to was from Santa! They LOOOVED this and were so excited for it. They ride around on all of the neighbor kids' jeeps and whenever we go camping, they steal their friend Gage's. It is going to be so fun for them to have! And heck, the thing plays the actual radio... Sweet!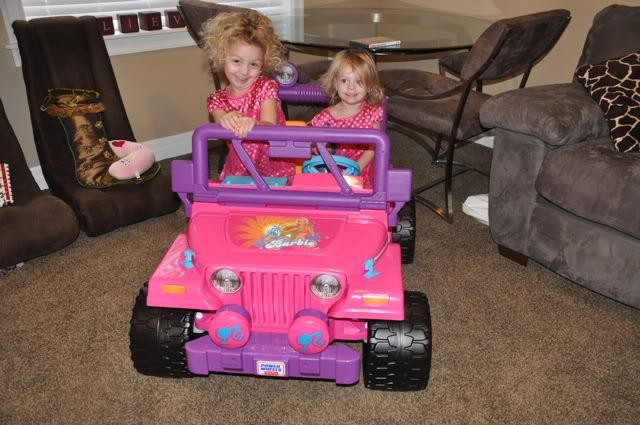 Santa even brought the dogs some treats!!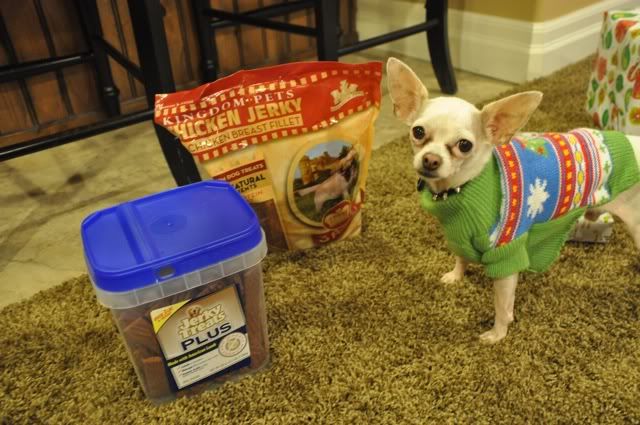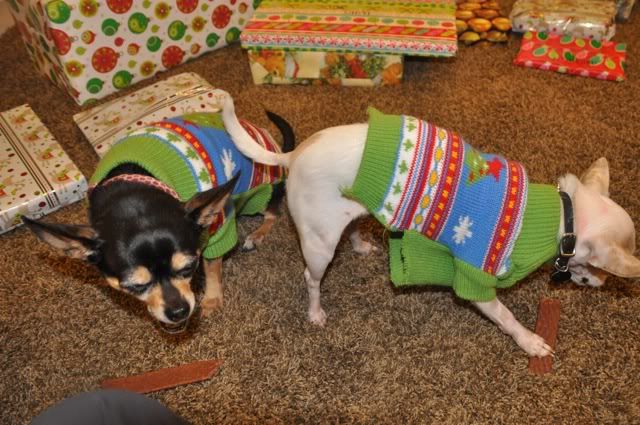 Anisten was a little tired at first...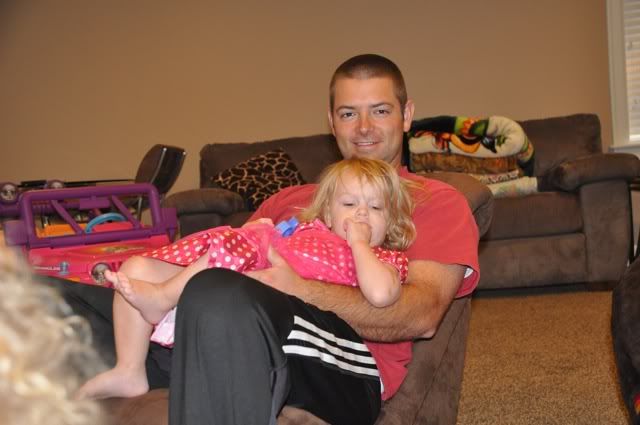 Emery got some great presents from Grandma and Grandpa Hathaway!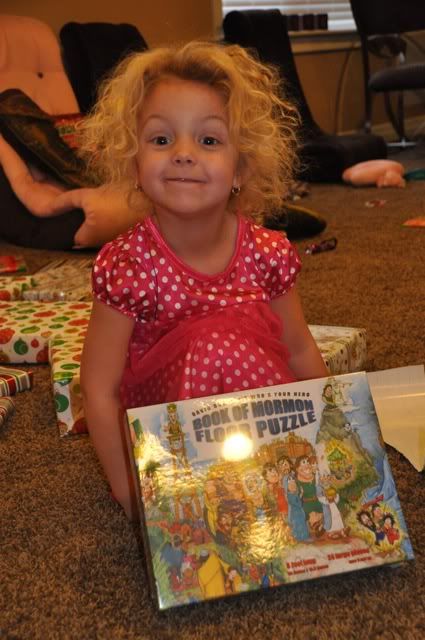 Anisten got the princess heels she has been wanting....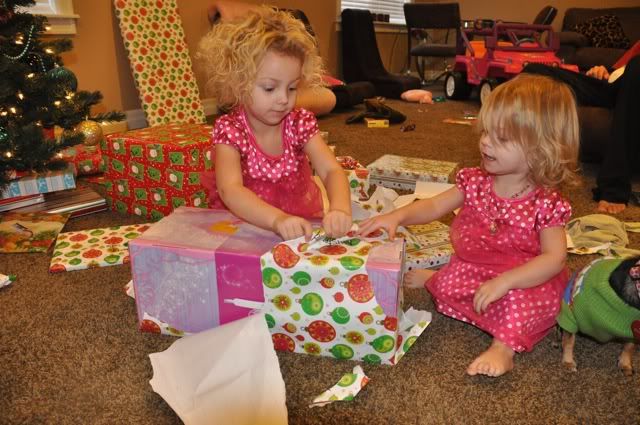 We went to Hawaii a few weeks ago and Braun was dead set on buying the girls some crocs! Anisten is literally OBSESSED with shoes lately. The second she wakes up she wants them on and she wears slippers to bed! They were extremely excited about their new shoes!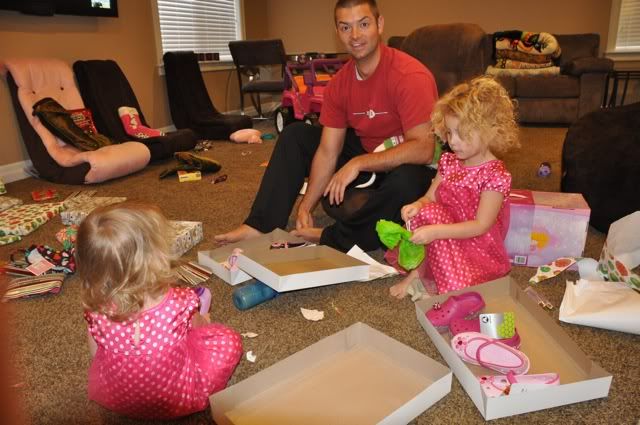 Anisten got some coloring books and movies from Grandma and Grandpa Hathaway!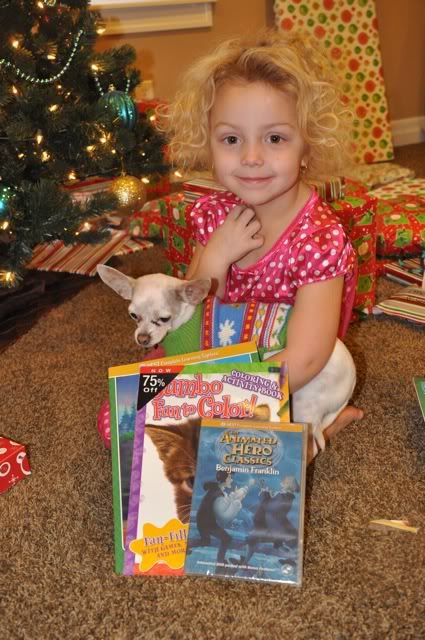 And somehow Santa got the memo that Emery wanted those princess dolls! Lucky girl.... :)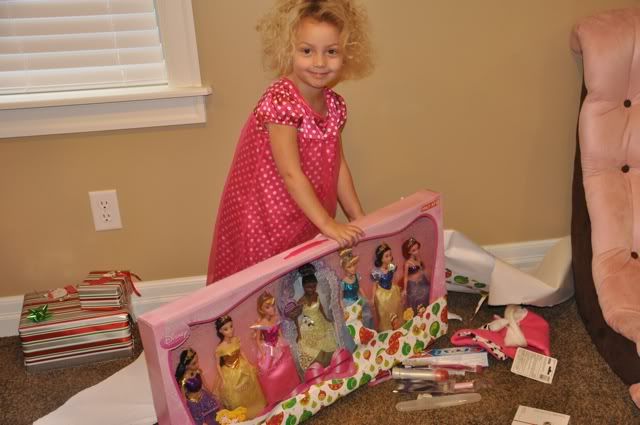 The present aftermath...
We went to Braun's parents for dinner that day and got spoiled some more! We got an awesome camping table (we are slightly obsessed with camping!) and a wheat grinder! Then we went to my parents after and ate some more. Oh my goodness... we got Just Dance 2 for the Wii that day. It is the best game EVER!! I am a sweaty, breathless mess after I play it but it is awesome. I was about crying from laughing so hard. Anyone want to come and play?? SOOO FUN!


We had such a great Christmas. Although it is so much getting gifts, I hope you all were able to do something charitable this Christmas season. It is so much fun receiving things but it is ten times as good when you can help people in need! :)

Merry Christmas!!